This is certainly going to be the season for babies!  Jess, a fellow knitting friend, is due in July.  Two of my cousins are due in June and July (respectively), and another cousin's wife is due around the same time as me.  So, you can imagine what I've been working on lately.
Project : Baby Pullover
Pattern: Bulky Baby Pullover by Diane Soucy
Yarn : Jackson by Tahki Yarns
At first, I wasn't sure how this was going to turn out.  Yes, it is a simple pattern and knits up quickly with bulky yarn.  But the neck was a little odd; you go back and pick up stitches.  The way that it was written, I thought that there would be a placket.  Still, it turned out nice and I'm happy with it.
The yarn that I ordered to make the baby blanket for MY baby finally arrived!  I really want to cast on straight away, but I have some other projects that need to be finished first.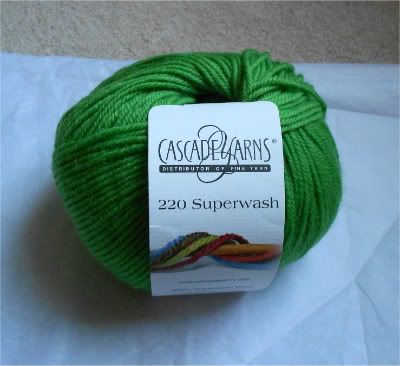 The color is called 'Charteuse'; it is a little brighter than in the photo.  And the pattern I'm going for?  Why, The Hemlock Ring of course!   Boy or girl, this is the blanket that I've dreamed of knitting for my child since John and I started trying almost four years ago.  So, I'll keep you posted.  I don't know how long I can hold off before I start casting on!